International Dog Show (Cruft's qualification show) Ozolnieki,LV
Dainuvīte Gertnere
Already two days before the big day we were looking at the weather report, hoping that "weather man" will bring nice and shiny day on 12. and 13. June.
Dogshows supposed to be outside. It will be not nice if fluffy dogs will get wet. Who wants to lose his beautiful coat?
We woke up excited and at the same time peaceful, because weather in showday was great.
We went to our favorite stadium Ozolnieki to show how charming and beautiful we are. And yes, today is a big event for wolfspitz Umas daughter Greisa (Harita Gracia Boyaros). She will start with her first steps in puppy show.
Congratulations to Greisa and her owner I. Otanki for the high results in their first ring and having the title of best puppy, PP.
Also we are saying thanks to expert
Agus Wardhana (Indonesia)
for giving such a good score.
Not just Greisa and her owner began to take part in dogshows, also our Chikitas "handler" J. Gertners was going in the ring for the first time. Congratulations and we hope for future co-operation. Samoed was valued by expert
Augustin Ionescu (Romania)
in Kenventaki Delight White Lady opened class –
Very good!
Thanks to expert for score.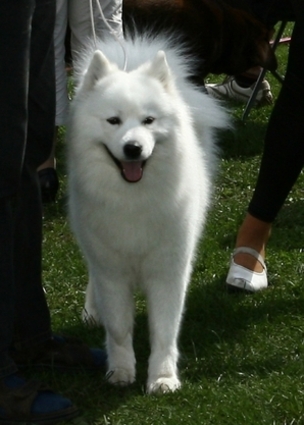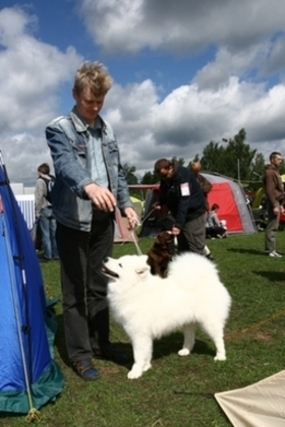 In the same time when sameods went to ring, also our wolfspitz/keeshond Uma shows to experts that she did not forget the things she learned before having babies. Expert
Agus Wardhana (Indonesia)
valued her in Pushistikoff Boyarushka in champion class – R. CACIB, CQ,II best bitch.
Thanks to expert for score.